By Mike Mease
In the midst of this long, hard winter we're all enduring, a story of how the Buffalo are coping came into BFC lives this week. On Monday, a lonely orphaned yearling showed up along Highway 191 near Airport Road. The Spring migration out onto Horse Butte has not yet begun, and this little guy seemed to show up out of nowhere. The yearling slowly walked slowly into town, often pausing for long intervals, catching a nap in one of the rest stops near town, and even visited the Forest Service Ranger's Station for a bit - all with a friendly police escort from West Yellowstone's finest, it should be noted - before returning to where it started and bedding down for the night just off Airport Road.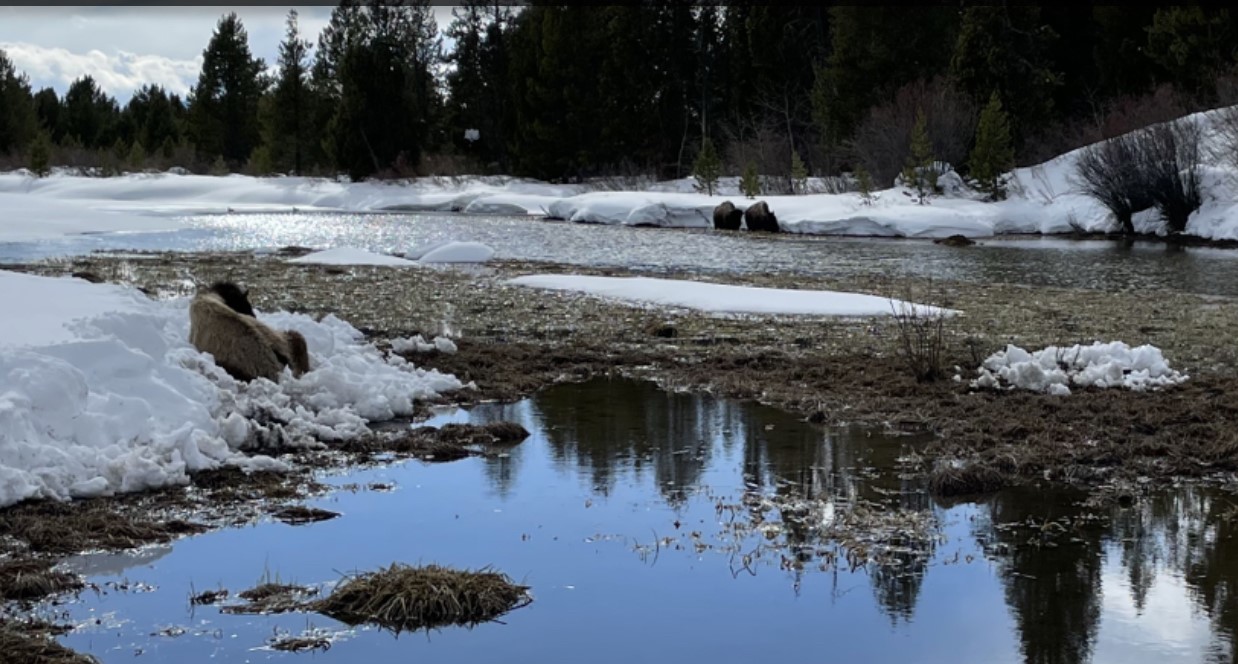 Tuesday morning, it began heading north towards the Madison River, still quite alone and obviously depleted from lack of food, as a young bison has no way of reaching grass through the snow and ice. Frustration was building here at Camp, along with fitful sleep worrying about the young one's survival. We could only hope he stayed off that killer highway during the night when we couldn't be with him.
That same evening, we were happy to finally connect the orphaned yearling with an older female who was looking rather ragged herself. Would she make it through the winter? Hips sticking out, rib cage visible, the mama bison bedded down with the lonely orphan that night, safely off the highway. We slept a little better knowing they had each other.
Next morning, we found the yearling once again all alone, sleeping in the middle of Highway 191! Fortunately, we were able to coax the little guy off the highway, headed down the plowed road out of harms way. Later that day, we found the young one heading north again, still alone.
With snow piled very high along 191, the berms still reaching five feet, there are not a lot of places for a wandering orphan to go. For this reason, BFC has dug out two corridors off Highway 191 on either side of the Madison River, to assist the Buffalo in getting off the road and access forage along the riparian corridor.
Our little friend managed to find the canal we dug on the north side of the Madison, headed down to his or her first meal all week, and hooked up with two other mama bison! They all bedded down together in the wallows along the river, and we observed them again the next morning behaving like a small herd.
This furry little orphan would not have survived long without gaining access to forage. With an assist from BFC's Shovel Brigade, our volunteer patrols, and two loving Mother Buffaloes, this young one now has a much better chance to live a long life - hopefully long enough to roam free. Not all Yellowstone Buffalo stories have such a satisfying ending, but we find fortitude and hope wherever we can in service of our wild family.
Read more: Buffalo Field Campaign Partners With Montana Department of Transportation to Safeguard Spring Migration